Surveillance camera systems or security camera systems, are now considered to be your first line of defense in the battle against break-ins, theft, property crime, negligence, neglect, physical abuse, vandalism, or any other unwanted behavior on your premises.
Whether you need recorded video protection for your business, home, or both, it is to choose the right system that will meet your video security needs. We offer a wide variety of premium surveillance camera systems that we can custom tailor to meet your requirements.
Which means we can customize a system to meet and exceed any requirements you may have. Everything from dome/bullet/PTZ cameras, HD resolution from 720p to 1080p, 1 megapixel to 12 mp, analog or PoE, 500GB to over 24TB of recording space and much, MUCH more!!
With so many different cameras and surveillance systems to choose from it can quickly became a daunting task for most decision makers. We recommend you contact the professionals at CITS to discuss options, book a FREE in-home consultation or keep reading to learn more.
Why Choose Clear IT Security for your Video Surveillance System in the Dallas and Fort Worth area?
The best security camera system for the job will be as unique as the property is protects, and deciding which video security system is right for you can be difficult. We understand that buying a surveillance camera system can be a big investment not only in terms of money, but in terms of time. It makes sense to purchase a camera system that meets your needs from the start, which is why we have a professional staff of camera systems experts and consultants standing by ready to help.
All CCTV camera systems from CLEAR IT SECURITY are based on the latest cutting edge technology:
Network-based connectivity for remote viewing of your premises via our free smart phone or tablet app.
Email alerts when the system senses activity that should be reviewed.
High-resolution (HD) imaging meets or exceeds forensic standards for positively identifying subjects of interest.
Continuous 24/7 recording option to make sure EVERYTHING is always being recorded!
Motion-detection recording option enables recording only when necessary, optimizing the use of hard drive space.
Infrared imaging automatically switches on in low-light or nighttime conditions for monitoring and recording any time of the day.
Clear IT Security DVR and NVR based camera systems are custom built and designed to meet your surveillance needs
Our CITS systems can be programmed to record everything 24 hours a day, 7 days a week or just when motion is detected within a specific area of the camera's view. We can even setup recording schedules, block out sensitive areas and/or setup motion alerts on specific cameras.
No matter your needs are, we can customize a system to meet and exceed your requirements.
What about other brands of systems?
While we have used and installed nearly every brand of security camera system out there such as Swann, Q-See, Lorex, Night Owl and Amcrest… we prefer to build our own. These consumer brand systems may be less expensive in some cases, however they have major disadvantages and security concerns:
These systems have a proprietary design and generally only work with their cameras and DVR/NVRs which means you will either pay much higher replacement or add-on camera prices IF they are even still available when you need them! We have had home owners contact us that bought a house that has cameras but the home owner kept the DVR. Sure enough the Lorex cameras were proprietary and would only work with a NVR that was no longer available even though the system was only 2 years old!!
MAJOR SECURITY FLAW: Hard-coded password exposes up to 46,000 video surveillance DVRs to hacking | CSO Online – we have replaced DVR systems from both Swann and Lorex that have these vulnerabilities!  BEWARE: If you have one of these systems you can be hacked! REPLACE THEM ASAP! I have 2 of these systems if you would like to see the issue for yourself!
Top 5 Things to Consider when Picking a CLEAR IT SECURITY Video Surveillance Camera System in Fort Worth and Dallas surrounding areas:
#1. Number of cameras needed and where to mount them for areas to be covered
Maybe have a really small area you are concerned about and 4 or less cameras would give you the coverage you need. Perhaps you really need 8 or more. While we don't need to know exactly where you want the camera installed it is a good idea to consider camera placement. Where you may have them installed could mean needing additional cameras for the coverage desired. Need help with where? No problem — we have you covered! Contact us for a free consultation!
#2. Picture quality desired
Are your cameras going to be far away from the actual subjects? Do you really need to be able to read license plates? Most people only need 720p as the picture is still HD and can provide excellent facial details. Check out the following license plate comparisons: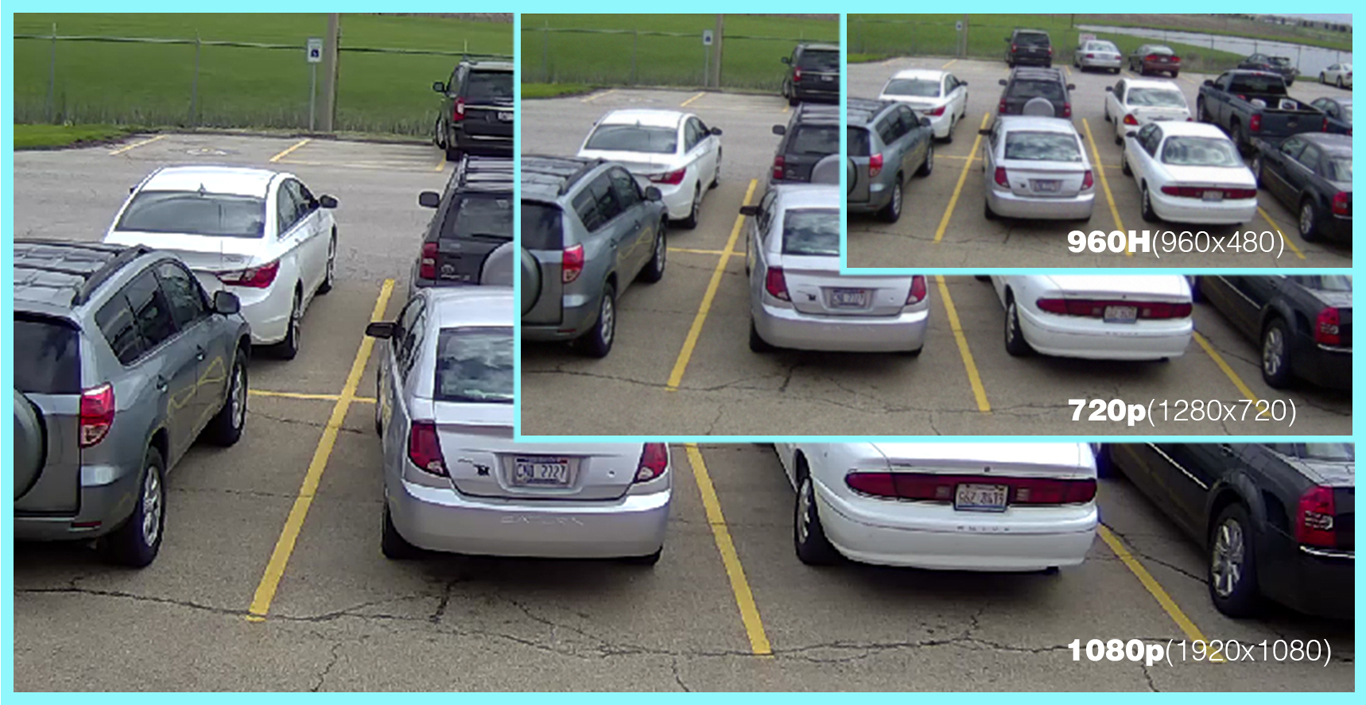 #3 – How much recording storage space or time is needed
Most systems allow for 14 days or more of recording storage. If you need more than 30 days of storage a 2TB or larger drive may be required.
#4 – Where you want the DVR installed
Do you have a safe room or place where the DVR could be concealed? Is it near a TV or do you need a monitor for viewing? Is it near the internet router? DVRs require a HDMI or VGA connection for local viewing. A hardwired RJ45 / CAT5/6 ethernet connection is also required to your internet router.
#5 – Do you think adding additional cameras in the future is a possibility?
If yes, make sure to get a DVR that has additional channels for expansion.
The brand of camera DVR system used isn't nearly as important as the capabilities and security of the Video Surveillance Camera Systems in Fort Worth. The software used on most all DVRs are the same with vendors only customizing the layout and logo giving them a similar yet different look and feel. Check out this article and think twice before you believe in a particular brand name:
Hard-coded password exposes up to 46,000 video surveillance DVRs to hacking | CSO Online
Contact us today to get the best deal in surveillance camera or security camera systems!