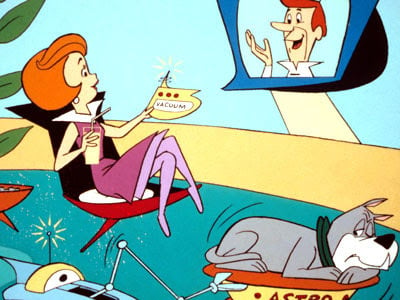 Home security in the last 5-10 years has shifted away from simply arming burglar alarm system keypads and installing deadbolt locks into cool, cutting edge high-tech security gadgets that can be controlled and monitored via an app on your phone. While the Jetsons-era hasn't fully arrived just yet, the technology behind the best home security system found in modern smart homes would blow the minds of our ancestors.
Today's best home security systems aren't simply the product of technological developments of the past few years. The groundwork for today's smart home security systems was laid generations ago. To fully understand how home security evolved into what it is today, you have to take a look back at the past.
Choosing the best home security system to protect your family and property requires proper planning to prevent poor performance.
Planning for the Best Home Security System
Door and Window Sensors
Your points of entry; such as doors and windows, should be evaluated for the types of sensors needed. Doors and windows are typically fitted with recessed or surface mounted magnetic contact sensors that report when opened and closed but there are other types available. Motion or glass break detection is highly recommended as well in areas with glass or other materials that are easily breakable.
Motion Detection Sensors
Motion detection sensors are usually placed in hallways, living areas, kitchens and/or master bedroom areas to ensure no one is actually inside your home or gained access while you are away. Most motion detectors available today are also pet-friendly up to 50 lbs. and will not cause false alarms.
Glass Break Sensors
Glass break sensors should be placed in areas with a high-potential for the glass to be broken to allow access. Most glass-break sensors are rated to detect the sound of breaking glass within a 15-ft radius of the detector so not every window will require one.
Surveillance Cameras
Security cameras should be placed at the entry-points as well. We suggest a system that will give you a near 360-degree view of your residence. Smaller homes may only need 4 cameras but larger homes typically require 8 cameras or more. Doorbell cameras are a great way to answer and talk to or see who's at your door without ever opening the door.
Fire/Smoke/Heat/CO2 Gas and Flood Protection
Unfortunately, burglaries are not the only things that pose danger to a home. Properties are also subject to fires, carbon monoxide (CO2) gas leaks and water leaks. Fortunately, today's best home security system supports sensors that can detect these threats as well and alert you as well as the proper emergency response authorities!
Home Automation and Access Control Integration
Smart home automation is where the Jetsons-era meets today's best home security systems. This is part of home security that makes life more enjoyable by helping you with tasks that would typically require manual intervention or you being at home. Arm or disarm your system, check the history of events, add/delete users, change codes, create scheduled access times, setup notifications for events, view your cameras and much more via your phone or PC.
The days of having to drive back home to . . .
Let someone into your home
Make sure you actually closed the garage door before you left (and close it if you didn't!)
See if a package has been delivered
Make sure your kids made it home from school (and what time they did!)
See if anyone is at your home
Make sure you set the alarm before you left (and set it if you didn't!)
Check on a loved one
Adjust the thermostat
Turn off the curling iron you left on!
. . . ARE OVER!
This is 2018! If you don't have a system that is capable of all this and more — you are not enjoying all the comforts of a CITS Smart Home Security System.
So many choices = So many questions!
Which brand is better and why? ADT or BRINKS? DSC or Honeywell? Swann or Hikvision? CITS or XYZ?
What makes one better than the other? Price? Quality? Customer Service?
What type of system? Wired or Wireless? DVR or NVR? Coax/Analog or PoE?
Should I hire a professional installer?
Are all home security products and apps the same?
What's the best security company?
There's a lot to research if you are a do it yourself kind of person.
With so many choices available today it can be an overwhelming and time-consuming process. Picking the best home security system requires extensive knowledge of the equipment available today.
So how do you pick the best home security system in Dallas, Fort Worth, TX and surrounding DFW areas?
Consider all of the best home security options and latest technology available today
To save you time, and to help you get the most protection, ease of use and everyday value, we've narrowed things down to seven essential things to know. Ask these questions as you assess your options to make the smartest choice.
1: Is it professionally monitored?
Professional monitoring is the gold standard of home security. If there's a break-in or fire at home, a professionally monitored security system sends an emergency signal to a 24-7 monitoring station, where a trained security professional is on hand to alert your local law enforcement or fire department.

All Alarm.com-powered security systems are professionally monitored, because there is no effective substitute for this service. You can't see every smartphone alert that a security system sends you, and if you're home in an emergency, your priority is to get everyone to safety.
2: Will it withstand a burglar's toolkit?
Not all security products are engineered equally. To ensure you don't entrust your safety to a security system that can be disabled with a hand tool, make sure it has:
Crash and Smash protection. A common burglary tactic is to smash a home's security panel to prevent it sending an emergency signal to the monitoring station. Alarm.com's technology can recognize a crash and smash attack, and signal your monitoring station regardless.
Dedicated cellular connection. This type of signaling technology doesn't piggyback on your home's broadband or phone line, and so can't be physically cut by an intruder. All Alarm.com-powered security panels have a dedicated cellular connection with battery backup for power outages.
3: How many sensors does it come with?
Contact sensors are home security essentials; small devices that detect the opening and closing of doors, windows, drawers and more. Some security systems come with as little as two contact sensors, which is a problem. Burglars don't just use the front and back door.
Alarm.com service providers—the experts who sell and support our technology—will work with you to determine how many contact sensors your home needs, and provide them as part of the package. The average Alarm.com-powered home has ten of these incredibly useful devices.
4: What else will this system protect you from?
New technology means that the best security systems can protect your home from far more than a burglar.

Alarm.com's proactive safeguards can detect and respond to dangers like fire, carbon monoxide and water leaks. They can also save you time and money, tackling problems like energy waste, lost keys and package deliveries. They can even alert you when there's unexpected activity around your house, such as your kids getting into forbidden areas.
With the ability to respond to more dangers and challenges, even when disarmed, an Alarm.com-powered system gives you more value in the long run.
5: What happens if something stops working?
The most important thing about a security system is that it has to work when you need it. When you go it alone on a security or smart home setup, what happens when a device or component of the system needs professional attention?
With an Alarm.com service provider, however, help is always at hand. With advanced training, and online diagnostic tools, they can quickly troubleshoot your system. Many issues can be fixed remotely; other fixes can be carried out by a visiting technician.
PS: In addition to great customer support when things go wrong, Alarm.com users get digital updates that make their technology even smarter. We regularly roll out new features—like our Smart Signal emergency buttons, or our voice-controlled automation commands—for no extra charge, keeping your technology cutting-edge while other security systems grow obsolete.
6: Does it include smart home devices?
Smart home technology is the home improvement trend that's here to stay. The right security system will set you up with everything you need for a smart home. In fact, it's the easiest way to own one.

Alarm.com dealers carry a wide range of essential smart devices, and Alarm.com is compatible with many more. You can have smart locks, a smart thermostat, connected video cameras, smart lights, a video doorbell, smart shades, connected garage door openers and more.
Controlling an Alarm.com-powered smart home is easy. Our smartphone app controls everything, or you can use your voice with Amazon Echo and Google Home. And when it comes to automation, our security technology makes the smart home smarter.
7: Is this security system powered by Alarm.com?
Maybe you don't need seven questions to pick the best security system. A smart home security system powered by Alarm.com gives you all the protection and benefits above. Just ask our users.
With more than 6,000 service providers selling and supporting Alarm.com technology, it's easier than ever to find.
---
And the best part is, if you are in the Dallas-Fort Worth or surrounding DFW area we can help you choose the best system for your home!
Contact us today or schedule a FREE in-home security consultation!